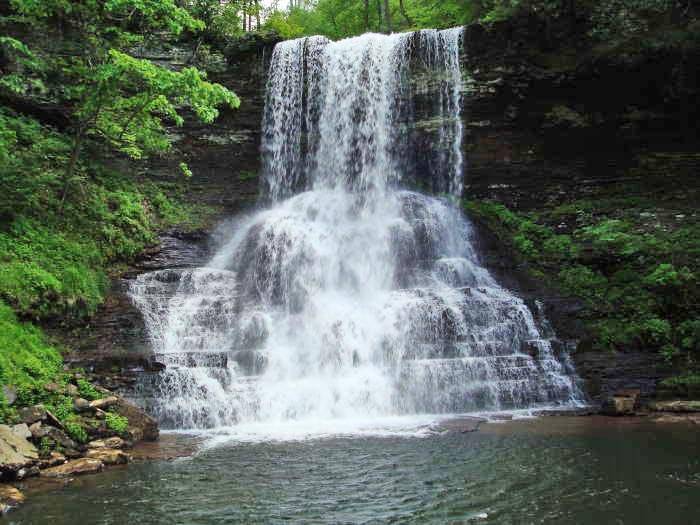 Pembroke is a town with a population of 1,128 according to the 2010 census. It is known as the Gateway to the Cascades. The Cascades is a 66 foot naturally occurring waterfall with an approximate 4 mile round trip hiking trail. The hike is highly scenic with low to moderate difficulty. There is a picnic area at the beginning of the trail and a water hydrant for filling water bottles available in the recreation area along with restrooms. Whether fly fishing for brown trout on lower Stony or brook trout and native trout on the upper extremes, we have something for any fly fisherman.
Pembroke has access to the New River along with numerous outdoor adventures such as nature walks, treasure island, boating, tubing, kayaking, canoeing, excellent fishing, hunting, camping, olympic-sized swimming pool, golfing, tree top adventure zip-lines, the tallest inflatable water slide in the world, zorb ball racing course, bubble body ball, soft point archery tag, bird watching, pick your own apple orchard and many other activities. The town is home to several outfitters that offer canoe and kayak rentals for your convenience.
Pembroke is also home to Mountain Lake Lodge which is best known for the film Dirty Dancing.
Glen Alton is a 304-acre estate that offers diverse habitats. Walk along trails that meander through wetlands, riparian woodlands, hardwood forests, open meadows, pond habitats, and coniferous stands. This site is unique in that birds typical of higher elevations can be found among these lower elevation woods. The average elevation of this site is around 2400 feet, but black-throated blue warbler, veery, scarlet tanager and even blackburnian warbler have been found within the confines of this site during breeding season. It is truly an interest to birders and nature enthusiasts.
Other prominent focal points are our many wedding venues and the smallest known walk-in library in the United States.
We have numerous Annual activities such as our Heritage Festival, Ruritan Fish Fry, and Christmas Parade. We recently started a new tradition known as "Mayor's Time on the Town" where we have a monthly community event sponsored by local businesses and organizations constantly taking place. Even though small, there are lots of fun activities and events for you to choose from.
For more information about the town, contact us:
Town of Pembroke
PO Box 5,
Pembroke, VA 24136
Telephone: 540-626-7191
Fax: 540-626-5523
Office Hours: Monday – Friday 9:00 a.m. to 5:00 p.m. (excluding holidays)
Visit our Facebook page!